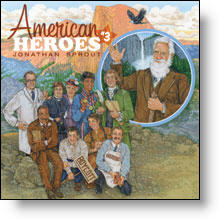 Since 1974 when Jonathan Sprout started his career he has been entertaining children with his song writing and singing talent. He has recorded nine albums the last of which, American Heroes #3 has been nominated for a 2010 Grammy Award in the Best Musical Album for Children category.

This album has received numerous awards and recognition including the following:




Winner of the 2009 National Parenting Publications GOLD Award




Winner of the Film Advisory Board 2009 Award of Excellence




Winner of the 2009 Parents' Choice Recommended Award




Celebrated Winner of a 2009 iParenting Media Award




Winner of the 2009 Creative Child Seal of Excellence Award



Awarded the Dove "Family-Approved" Seal by the Dove Foundation

In 1994, Jonathan Sprout read a newspaper article that revealed that America's youth saw their heroes as being characters such as Bart Simpson and Beavis & Butthead. He started to think about whom our true heroes were and why they were not on the list. After some thought, Sprout decided to write songs for children about true American heroes and the American Hero's series was born.
Jonathan Sprout has written over 30 songs about true American heroes and has performed them in front of elementary school across the entire East Coast of America. Heroes included in his works are politicians such as George Washington, Abraham Lincoln and Thomas Jefferson; athletes including Jackie Robinson and Wilma Rudolph; scientists like Jonas Salk and Thomas Edison; civil rights leaders including Martin Luther King, Jr., Frederick Douglass and Cesar Chavez as well as many others historical heroes.

Children are entertained by the fun music while also learning about important people in our history. I have listened to his songs and they are enjoyable.
Congratulations Jonathan Sprout on your nomination. We will keep our fingers crossed and we wish you the best of luck on Sunday, January 31, 2010.
To learn more about Jonathan Sprout and to view his album click here